Hi everyone!
Today I will show you the pictures of the shows of day 4 of Amsterdam Fashionweek. On the fourth day I went to the shows of Domenico Cioffi, Jivika Biervliet, Dennis Diem, Winde Rienstra, Maidenform, Nata Ryzh and Elise Kim.
So click on 'Read More' if you want to see my photo report of these shows.
Domenico Cioffi.
This show consisted a lot of clean and futuristic shapes and materials like the 3D top and skirt. I loved the smaller details like the keyhole sunnies and caps.
Jivika Biervliet. Her collection showed us clean menswear but with interesting details like plastic sleeves, earplugs as decorations and scale like pailetes on sleeves en shorts. I loved the cute kid owning the catwalk at the end of the show, she was so cute!
Winde Rienstra. Another one of my favourites! I really like Winde Rienstra for her use of interesting materials, gorgeous designs and awesome shoes. This collection was a bit darker then her previous collections. She was inspired by Japanese and Mexican cultures who worship death like a good thing, like Dias de los Muertos. She used a lot of wood in her collection. And of course her shoes were amazing like always! Props for the models who managed to gracely walk the catwalk in them.
Maidenform. Another underwear/shapewear brand. This show was a lot more classier then the one from Muchachomalo. I was in doubt how they could make a sexy catwalk show with shapewear, but Maidenform totally pulled it off! By styling their models with extra attributes and details like a transparant coat, assymetric jacket and leather gloves they made a very classy but sexy catwalk show.
Nata Ryzh. Her collection was called Rooted Hearts, referring to finding one's orrigin by going back to their roots. Natallya Ryzhykava originally came from Russia, but now she found her place in The Hague here in the Netherlands. Her collecion also was a bit inspired by the traditional Japanese culture, I saw many kimono-like jackets and dresses.
Elise Kim. This show was her last show of her dreams-trilogy. This show portraited the very deep sleep you're in at the end of the night, seeing dark and strange shapes. But then you wake up scared and fall asleep againg and slip into another dream, a more calmer dream. I really liked the colours, lots of black with other darker colour like blue and sometimes some red. I also liked the fact that she used lots of leather in this collection. And I seriously fell in love with the shoes of this show! They were made by
Peterson+Stoop
. Especially the ones on the picture a little lower, loose ankleboots with a super high platform and and a slighlt pointy nose. I can't get hem out of my head, I even dream about them! What a coincidence since this collection is about dreams :p But I seriously can't rest till these shoes are on my feet!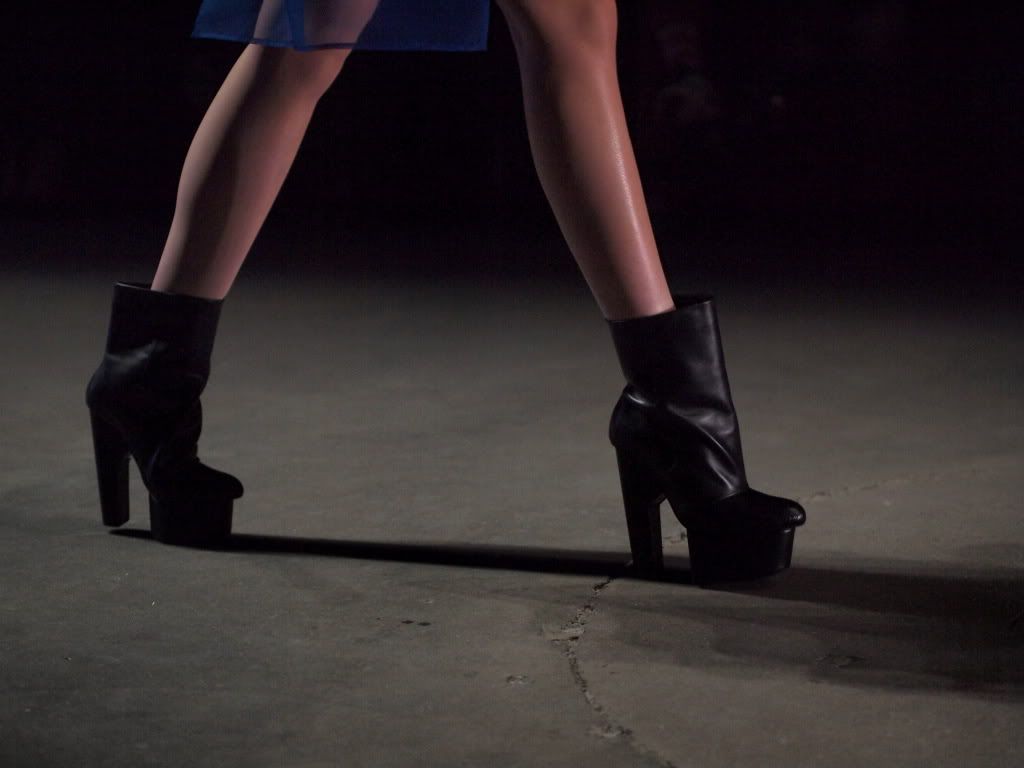 I need these Peterson+Stoop x Elise Kim shoes in my life! NOW!
Lots of love and have a nice day!
♥
PS. Will you please like my picture
HERE
? You will help me a lot to win my dreamtrip to London!